For more information on the Moku Go, Pro and Lab series specifications and applications visit the blog "Are you looking to combine your laboratory into one portable Moku Lab?" or download the datasheets from the download tab.
Moku:Go Oscilloscope / Voltmeter features two input channels with sampling rates up to 5 GSa/s and 600 MHz analogue bandwidth. Both channels support user-selectable AC / DC couplings, and ± 5 V or ± 25 V input ranges. The built-in two-channel waveform generator is capable of producing waveforms with a maximum bandwidth of 20 MHz. The ADCs and DACs are directly connected to a powerful programmable Zynq 7020 FPGA that allows the user to configure the instrument wirelessly in real-time with our clean, intuitive client software on Windows or Mac.
Moku:Lab's Oscilloscope features two 500 MSa/s analogue input channels with 200 MHz analogue bandwidth, 10 Vpp input voltage range, and user configurable AC/DC coupling and 50 Ω/1 MΩ impedance. The oscilloscope also features two integrated waveform generators capable of producing sine waves at up to 250 MHz and square, sawtooth, and triangle waves at up to 100 MHz.
Moku:Pro's Oscilloscope features four highspeed, ultra-low noise input channels with 600 MHz analogue bandwidth. An innovative blended ADC technology combines the information from 10 bit and 18 bit ADCs to cover a broad spectrum, providing class-leading input noise performance at 30nV/√Hz @ 100Hz with a large dynamic range. The built-in four-channel waveform generators are capable of producing waveforms with a bandwidth of up to 500 MHz.
Moku:Go Features
Moku:Lab Features
Moku:Pro Features

Two analogue inputs with 125 MSa/s sampling rate and 30 MHz bandwidth.
The intuitive user interface on Windows or  Mac.
Onboard signal analysis toolbox.
Math channel with support for arbitrary functions.
Integrated, high-speed, 2-channel waveform generator with a maximum frequency up to 20 MHz.

Two analogue inputs with 200 MHz bandwidth; built-in two-channel 250 MHz waveform generator
TTL-compatible external trigger
Onboard signal analysis toolbox: visualization tools including measurement trends and histograms
Math channel with support for arbitrary functions
Single tap data uploading to the Cloud, email or SD card
Python, MATLAB, and LabVIEW APIs support

Four analogue inputs with 600 MHz bandwidth
Exceptional low-frequency noise performance: 30 nV/√Hz @ 100 Hz
Dual-ADC design with blended ADC technology
Ultra stable 0.3 ppm onboard oscillator with 10 MHz synchronizations in and out
Integrated high-speed waveform generator channels with analog bandwidths up to 500 MHz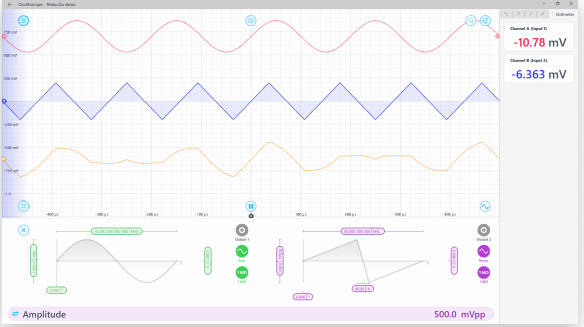 Available on

Interactively design and generate preset or custom IIR filters, all from an intuitive iPad interface, or with Python and MATLAB (LabVIEW coming soon).