Introducing the cutting edge Moku series for laboratory hardware.
---
Written by our supplier
Liquid Instruments

---
Moku:Go – The Complete Undergraduate Engineering Lab Solution
The complete solution
Moku:Go is a complete engineering lab solution for students to actively learn key concepts from circuits to senior design. Designed to be carried in a backpack, Moku:Go features 8 instruments and optional programmable power supplies. It eliminates the need for bulky benchtop instruments and empowers students to learn wherever they are. An intuitive user interface (UI) is included for Windows and Mac, and API support integrates with the rest of your curriculum. We've thought of everything to ensure students have a complete experience for four years and beyond.
Unity between hardware and software
Moku:Go combines the signal processing power of the Xilinx Zynq 7020 FPGA with intuitive software to ensure users never have to sacrifice precision for flexibility.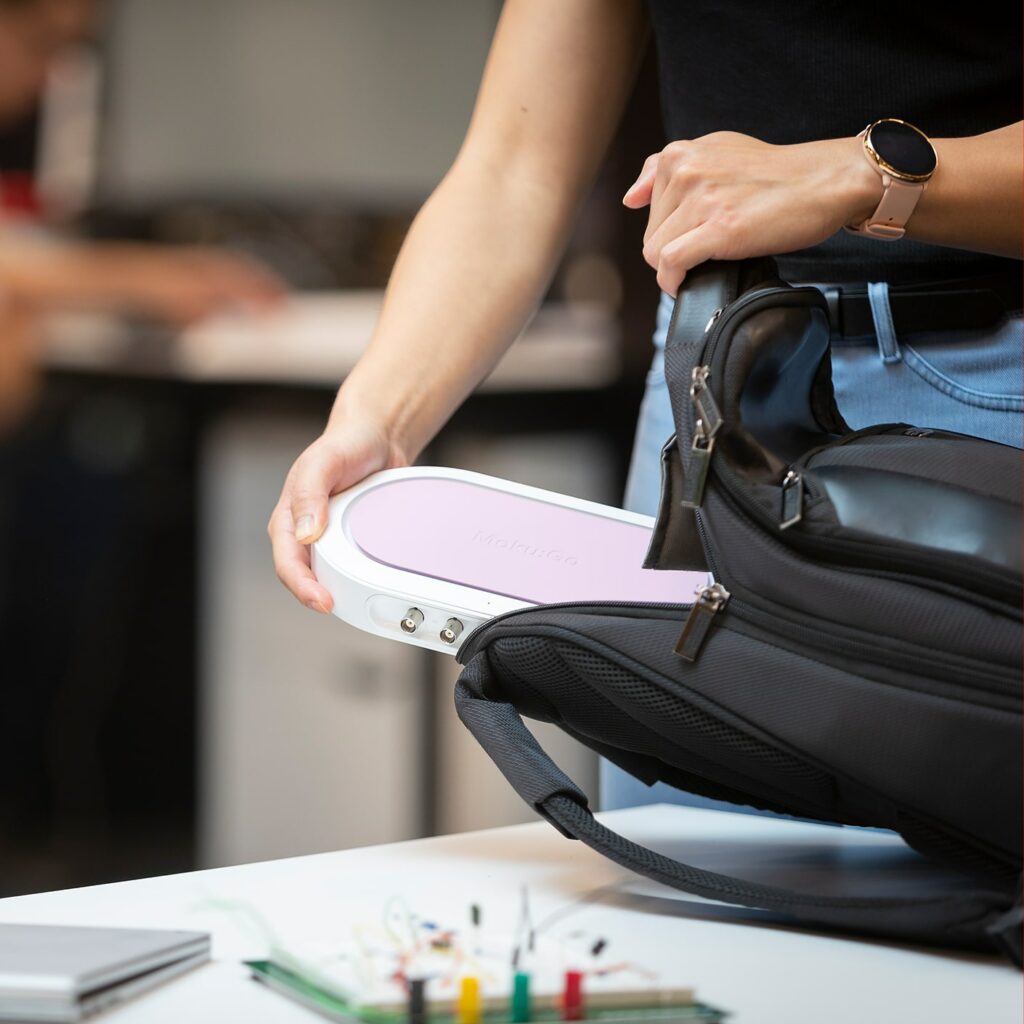 The lab that fits in your backpack
Practical labs can take place uninterrupted whether students are in the classroom, in their dorm, or across the globe. With all eight instruments on one portable platform, location is never an inhibitor.
Robust power supplies for any project
There's no "one size fits all" solution in education. Moku:Go comes in 3 different versions with varied power integration to ensure the perfect fit for your curriculum. Choose between no power supplies (M0), 2 channels (M1), or 4 channels (M2).
Output voltage and current levels:
Channel 1: -5 V to +5 V, 0 to 150 mA
Channel 2: 0 to +16 V, 0 to 150 mA
Channel 3 & 4: 0.6 V to +5 V, 0.06 to 1 A
Engineering for everyone
Student ownership is student empowerment. Students will begin their first year learning to use Moku:Go's Oscilloscope, and finish their final year implementing the PID Controller for their senior design project. With a price comparable to a textbook and everything included, Moku:Go is opening doors for future engineers.
Moku:Go features a suite of eight instruments
Replace multiple instruments with a single device that has everything students need for a fraction of the cost.
Oscilloscope / Voltmeter
Waveform Generator
Logic Analyser / Pattern Generator
Frequency Response Analyser
PID Controller
Data Logger
Arbitrary Waveform Generator
Spectrum Analyser

Customise your education experience
Pick from 6 colours so your Moku:Go is perfect for you. Place a volume order for custom colour or school colour options.
Pick your Moku:Go
Three different models are available, select the one that is right for your needs.
Please feel free to contact our team with any questions.
Model
Moku:Go M0
Moku:Go M1
Moku:Go M2
Weight
750 g
750 g
750 g
Included
All standard features & accessories.
All standard instruments.
All standard features & accessories.
All standard instruments.
All standard features & accessories.
All standard instruments.
Channels
–
Two-channel

Channel 1:
Voltage -5 V to +5 V
Current 0 to 150 mA

Channel 2:
Voltage 0 to +16 V
Current 0 to 150 mA
Four-channel

Channel 1:
Voltage -5 V to +5 V
Current 0 to 150 mA

Channel 2:
Voltage 0 to +16 V
Current 0 to 150 mA

Channels 3 & 4:
Voltage 0.6 V to +5 V
Current 0.06 to 1 A
Ethernet
–
–
Included
---
MOKULAB – BASE MODEL
Many labs hold multiple pieces of equipment that occupy precious workspace and produce unnecessary clutter. If this sounds familiar, then you'll find that you can replace most of them with a single device: Moku:Lab.
All-in-one
The Moku based model performs the function of 5 professional-grade instruments in a single device.
They include:​
Oscilloscope
Data Logger
Spectrum Analyser
Arbitrary Waveform Generator
Waveform Generator
With the option to upgrade to more:
FIR Filter Builder
PID Controller
Laser Lock Box
Lock-in Amplifier
Frequency Response Analyser
Phasameter
Digital Filter Box
And more to come!
Inputs and Outputs
With DC-coupled, low noise analog inputs and outputs (2 channels of each), you can measure and generate signals from a single device.

Analog inputs: Moku:Lab's DC to 200 MHz inputs can be switched between 50 Ω/1 MΩ and AC/DC coupling. For optimising dynamic range, the 500 MS/s 12-bit ADCs are coupled to an analog front end featuring two gain ranges (± 5 V and ±0.5 V) switchable via the iPad.
Analog outputs: Moku:Lab outputs can drive a 50 Ω load with 2 Vpp at frequencies up to 200 MHz. The 16-bit DACs coupled with custom-designed output conditioning produce extremely precise signals.
Made for iPad
The iPad is the perfect partner for Moku:Lab. The slot in the top of Moku:Lab provides a solid stand for your iPad. The slot is also a great place to leave your lab's iPad at the end of the day so you always know where to find it when you return.
Moku:Lab's back panel has a full-sized USB port just for charging your device, so it will be juiced up when you need it.
Minimum requirements: iPad, iPad Air or iPad mini 2 running iOS 8 or later.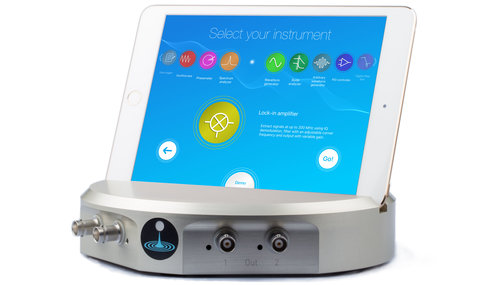 Fully Connected
Wi-Fi: Moku:Lab was designed with modern networking technologies in mind. High-speed Wi-Fi lets you interact with your experiment as you move around the lab.
No Wi-Fi in your lab? The Moku:Lab can host its own Wi-Fi network for the iPad to connect to.
Ethernet: For labs where Wi-Fi is not allowed, Moku:Lab has Ethernet and even an airplane mode that turns off its radio hardware.
SD storage: Moku:Lab comes with an 8 GB SD card and with the included Moku:DataLogger instrument you can perform unsupervised, reliable data logging. Set up an overnight measurement run and the data will be retrieved once you reconnect.
Precision and Speed
With an internal ultra-stable oscillator and a 10 MHz input and output for synchronisation, Moku:Lab provides the timing precision needed for professional scientific measurements. Moku:Lab features low latency throughput (sub-microsecond input to output delay), a critical factor for closed-loop control applications.
Moku:Lab App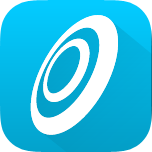 Take control of your experiment with the new Moku:Lab iPad App. It's mission control for all of your Moku instruments.
The App is free and demo mode works without any Moku:Lab hardware. Get it now on the App Store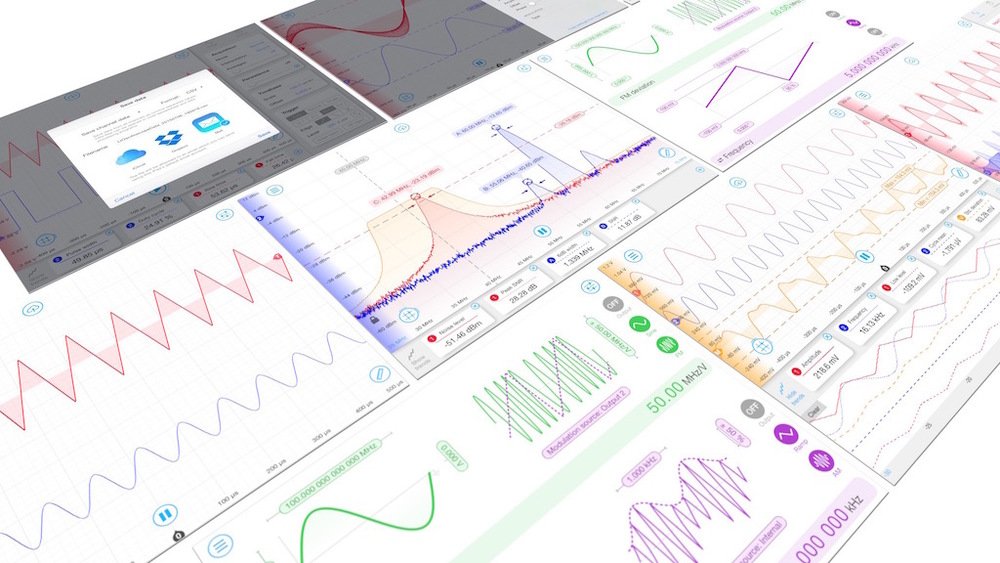 Multiple Instruments
Switch between instruments on a single Moku – or even different Mokus – in a matter of seconds. Moku:Lab comes with 5 professional-grade instruments: Oscilloscope, Waveform Generator, Data Logger, Arbitrary Waveform Generator, and Spectrum Analyser. Liquid Instuments are making new instruments all the time.
Breakthrough User Interface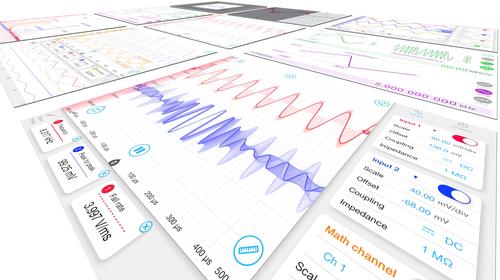 Each Moku instrument features a brand new multi-touch user interface, thoughtfully designed and meticulously optimised for iPad.
Freedom in the Lab
With a high-speed wireless connection, your measurements come to you. Stream data and control your experiment in real time as you move around the lab. No more squinting at screens across the lab or asking your lab buddy "Can you turn up the scale of channel 2?" Your experiment's display and controls are always at your side.
Share your Data
Connect to Dropbox, iCloud or email to instantly save your data or share your breakthrough with colleagues and frenemies. Moku:Lab can save an image of your screen or export your data in CSV or MAT formats.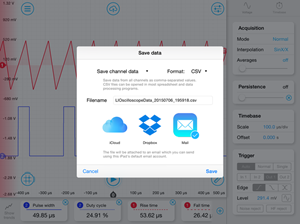 Is there a particular file format you need? Let us know! We'd love to hear from you.
Built for Speed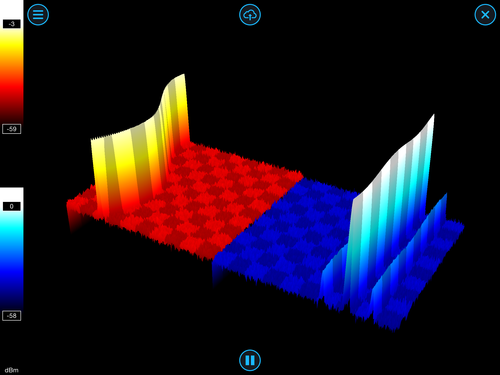 Moku:Lab for iPad features full OpenGL ES graphics acceleration fed by a low-latency, streaming network architecture. This gives you a smooth display with high frame rates so that you don't miss anything important.
Lights on. Lights off.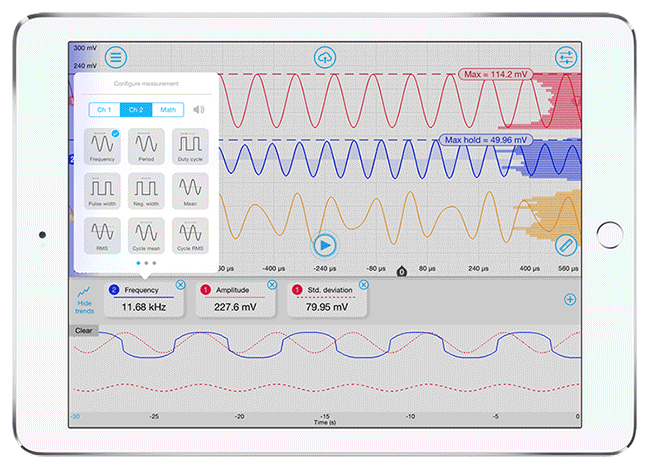 Moku:Lab's user interface is optimised for both bright and dark environments.
Save your State
Moku:Lab can save your instrument settings, like the scales, measurements, cursors and input impedance. Reloading your state helps to ensure that you take measurements under a consistent set of conditions. Moku:Lab automatically saves your state when you switch instruments, so you can pick up right where you left off.
---
Moku:Pro Hardware – The most powerful platform for your research
Flexibility without compromise
Moku:Pro is the next generation of software-defined instrumentation, delivering both performance and flexibility. A powerful Xilinx Ultrascale+ FPGA is coupled with a high-bandwidth analogue front-end and robust networking and storage. Moku:Pro's suite of software-defined instruments supports high-speed data acquisition, processing and visualisation, waveform generation, and real-time control applications. Proprietary hybrid front-end design performs frequency-dependent signal blending from multiple ADCs, delivering exceptional noise performance from acoustic to radio frequencies.
4 Analogue Inputs – Up to 600 MHz, 5 GSa/s
4 Analogue Outputs – Up to 500 MHz, 1.25 GSa/s
High-Speed Onboard Storage – 120 GB SSD
Noise Performance – 500 μV RMS with 600 MHz input bandwidth
Clock Stability – 0.3 ppm
Input to Output Latency – < 650 ns
Modern Connectivity – WiFi, Ethernet, and USB
FPGA Enabled – Xilinx Ultrascale+
Software-enabled hardware
Moku:Pro is the most advanced system from the Moku suite of software defined instrument platforms. Harnessing the power of the FPGA combined with a high-quality analogue front-end, Moku:Pro is able to host multiple instruments on a single hardware platform without sacrificing specs or precision. This approach to test equipment makes it possible to scale and expand the scope of research easily. With Moku:Pro, researchers and engineers already have the right tool for the job.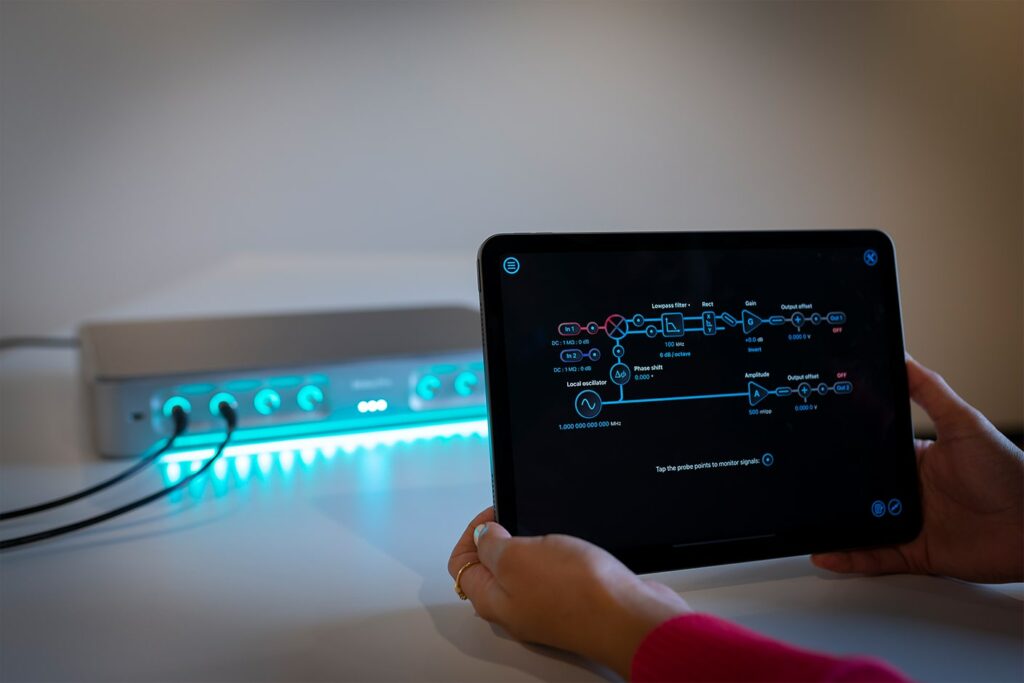 Blended ADCs
In test and measurement, flexibility has typically demanded tradeoffs in performance. We overcome these tradeoffs by using signals from a 5 GSa/s, 10-bit ADC and a 10 MSa/s, 18-bit ADC in a patented blending scheme to deliver a low noise floor and high dynamic range from 10 Hz to 600 MHz. This is achieved through a digital crossover network consisting of balanced high- and low-pass filters that implement real-time blending of the dual ADC data streams.
Coming Soon: Multi-Instrument Capability
This autumn, users will be able to run multiple instruments simultaneously on a single Moku:Pro. You will be able to place instruments in up to four virtual "slots", dynamically adding or removing Moku:Pro instruments to any of the four slots. For example, you can add an oscilloscope to slot 1, a spectrum analyser to slot 2, deploy a PID controller in slot 3, all while maintaining phase continuity on a waveform generator running in slot 4. Each slot has dedicated access to the analogue inputs and outputs, allowing you to run an entire suite of instruments with just one device.
Instruments running in this mode can be chained together to instantly build sophisticated signal-processing pipelines. Instruments are connected by a low-latency, real-time 20 Gb/s signal path. Connections to the analogue inputs, analogue outputs, and adjacent instruments are run-time configurable for instant gratification. Your Moku:Pro is now even more powerful.
(Available September 2021)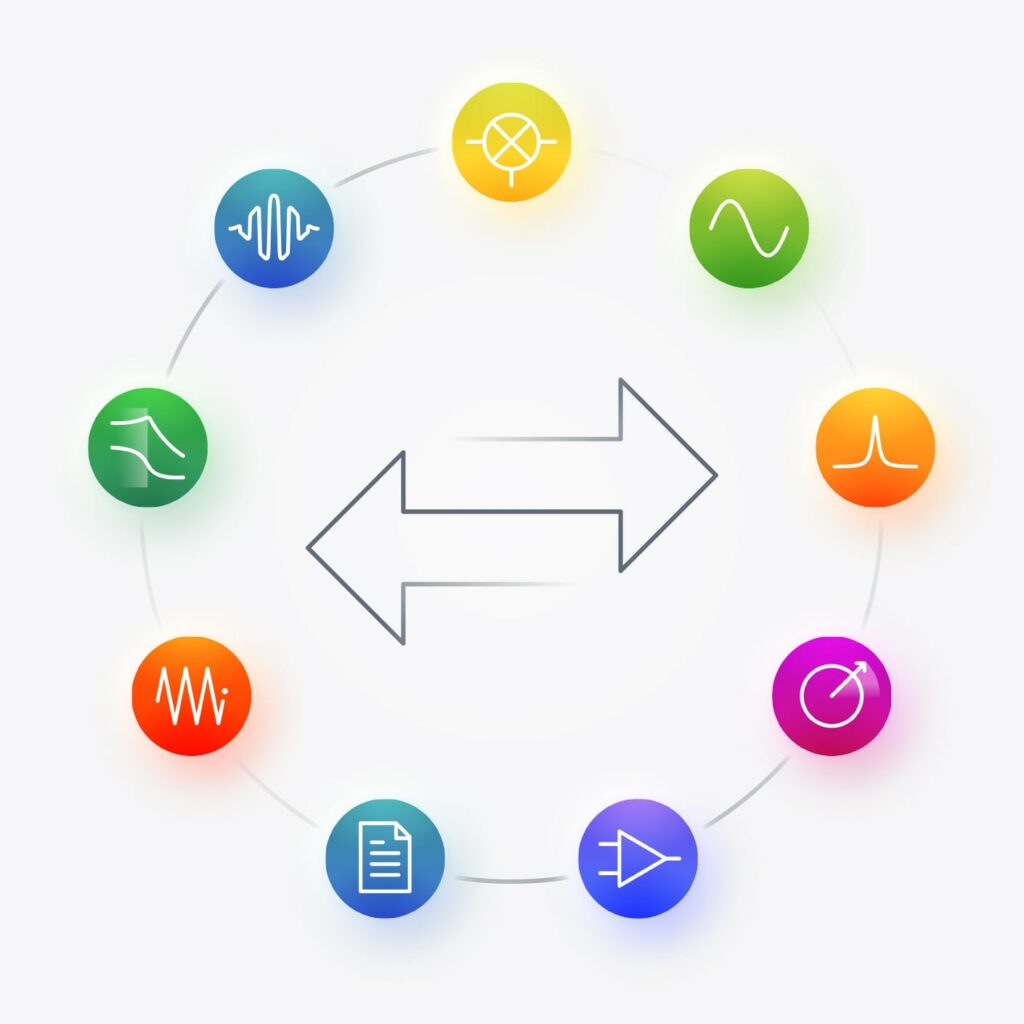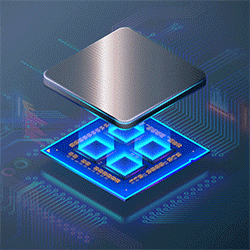 Coming Soon: FPGA access
Advanced users will be able to access Moku:Pro's FPGA to implement custom digital signal processing by writing their own VHDL code. This cloud-based tool is accessed directly from a browser, allowing you to develop, compile and deploy custom algorithms to your Moku:Pro without a single software download.
Your custom instruments will have access to standard Moku:Pro resources, like analogue inputs and outputs. Custom instruments can also be deployed on individual instrument slots in multi-instrument mode. You can plug your creation into Liquid Instruments' suite of instruments to provide a high-quality user interface and aid debugging. Programming and compiling are done with industry standard VHDL code, allowing you to work with high-level tools from third parties. Moku:Pro's compiling tool provides an efficient, easy-to-use alternative to working with FPGA dev boards for early stage prototyping.
(Available September 2021)
Moku:Pro features a suite of nine instruments
Multiple instruments and premium measurement quality in a single platform.
Lock-in Amplifier
Arbitrary Waveform Generator
Oscilloscope
Frequency Response Analyser
Waveform Generator
PID Controller
Phasemeter
Data Logger
Spectrum Analyser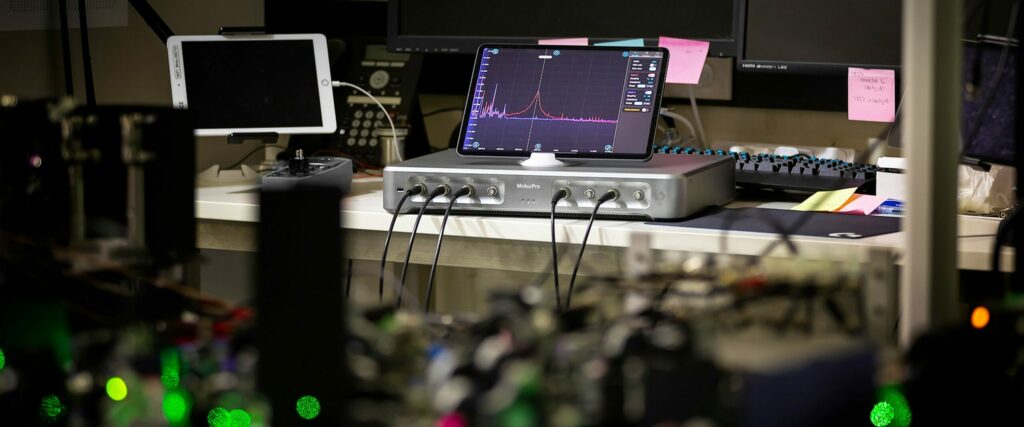 Input Voltage Noise
"Input voltage noise" describes the noise floor of the analogue inputs and is represented as an amplitude spectral density (magnitude of input voltage noise at different frequencies normalised to a 1 Hz bandwidth). It is impossible to resolve signal features below the noise floor. Input voltage noise is a key specification for a variety of instruments including lock-in amplifiers, spectrum analysers, and oscilloscopes as it can limit the signal-to-noise ration (SNR) in weak-signal applications.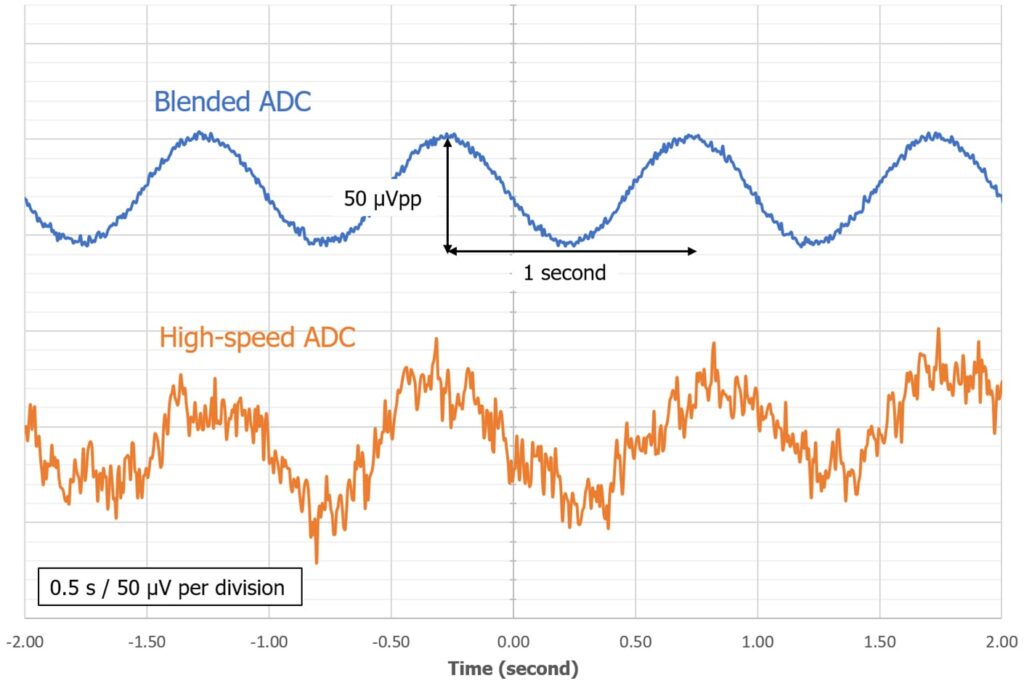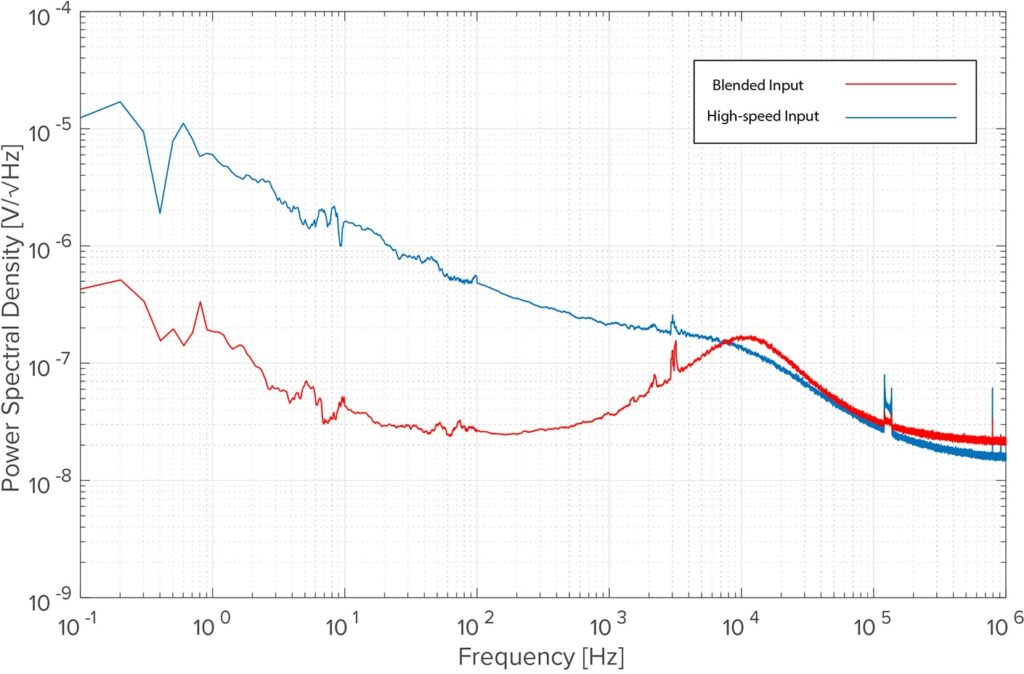 Blended ADCs
Our FPGA algorithms automatically and intelligently blend the high-speed and low-speed signals from the 10-bit and 18-bit ADCs to optimise noise performance across the entire frequency range.
Rather than simply focusing on minimising overall noise, the filtering network is designed in a way that preserves a unity-gain frequency response for the signal.
In this figure, you can see the noise performance is quite low at 30 nV√Hz at 100 Hz and remains low across the entire frequency range.
Specifications
Moku:Pro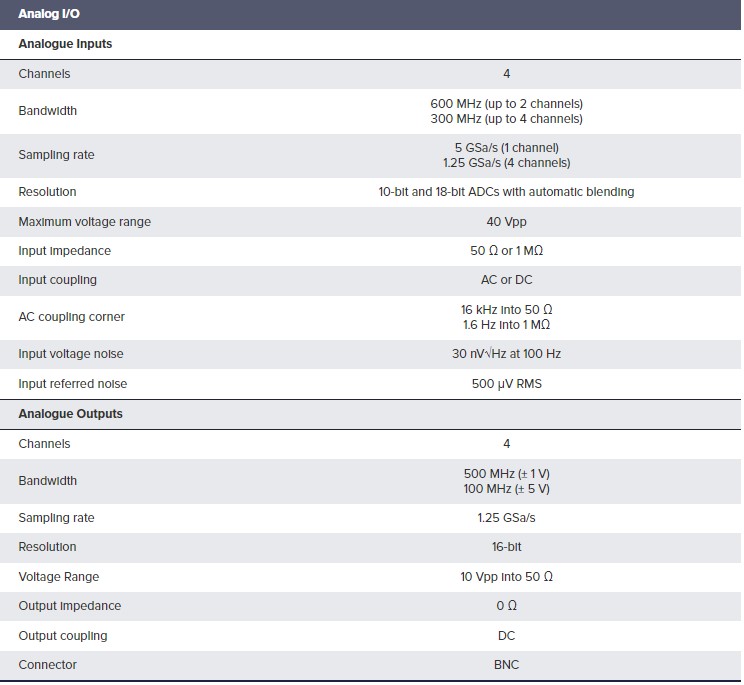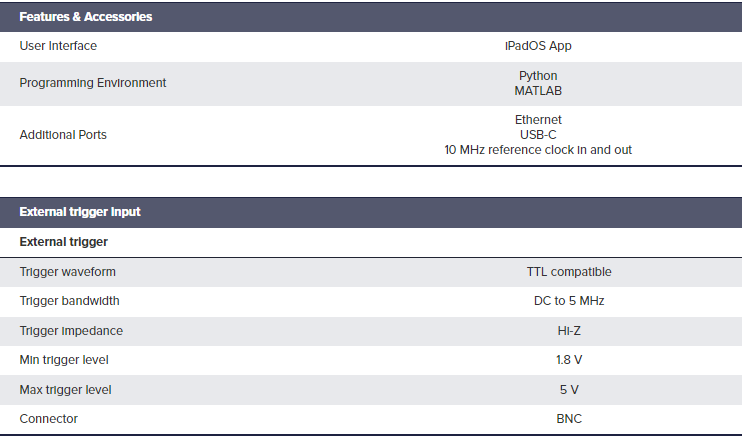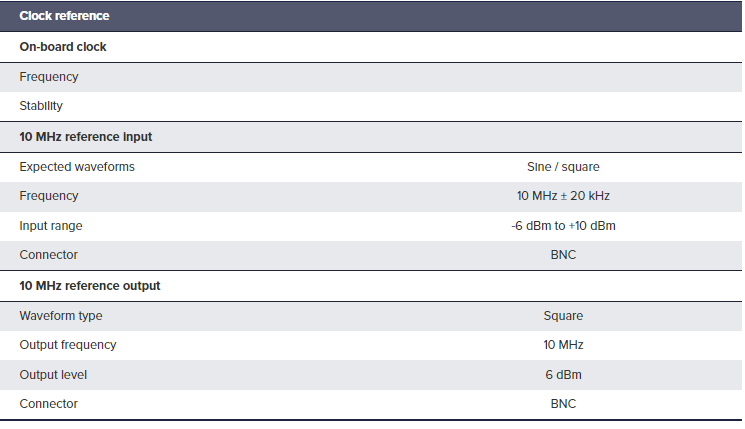 Moku:Go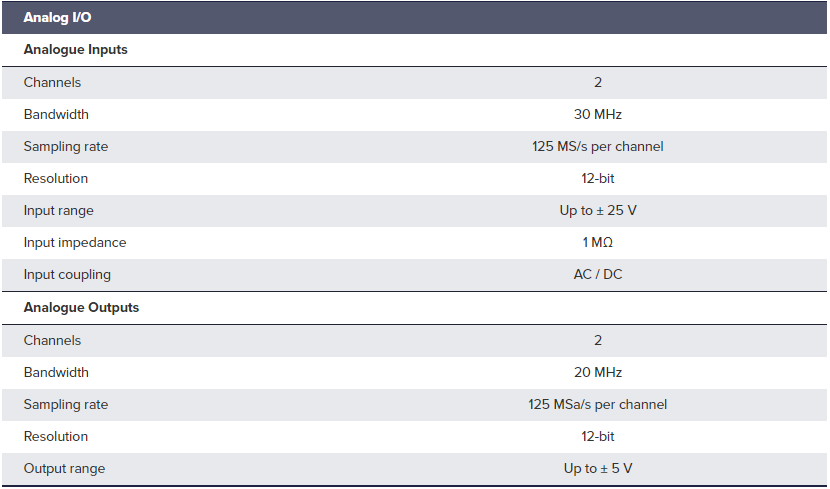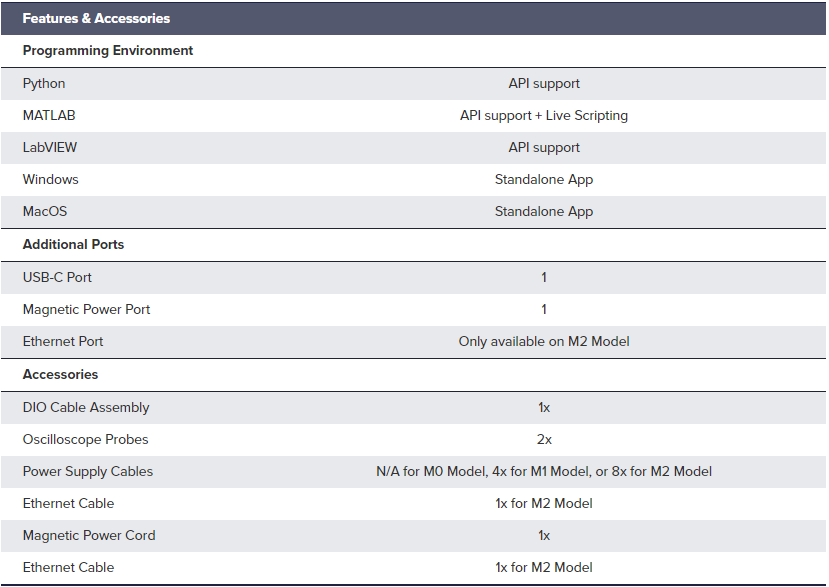 For more information contact us here:
---