Find out why you should think about incorporating blue lasers into your operation.
Although IR has long been used for welding, it isn't ideal for a lot of metals. Copper, for example, has a very low absorptivity (~5%) and High thermal Diffusivity, so it requires a high peak power.
As a result, IR lasers can only operate in Keyhole mode, which leads to high spatter, high porosity and defects, poor mechanical and electrical variability, poor yields, high difficulties to weld dissimilar metals.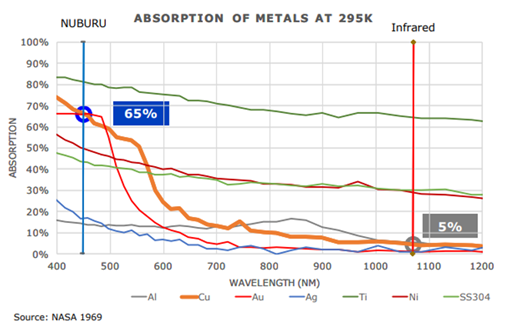 Copper absorption in blue is 12x IR. Most other metals absorption is 2x to >100x IR
Benefits of Blue
• 2x to 12x metal processing performance of IR fibre Lasers that are industry-standard
• Dramatically improves process performance and process window
• Enables welding processes not possible or with low yields with IR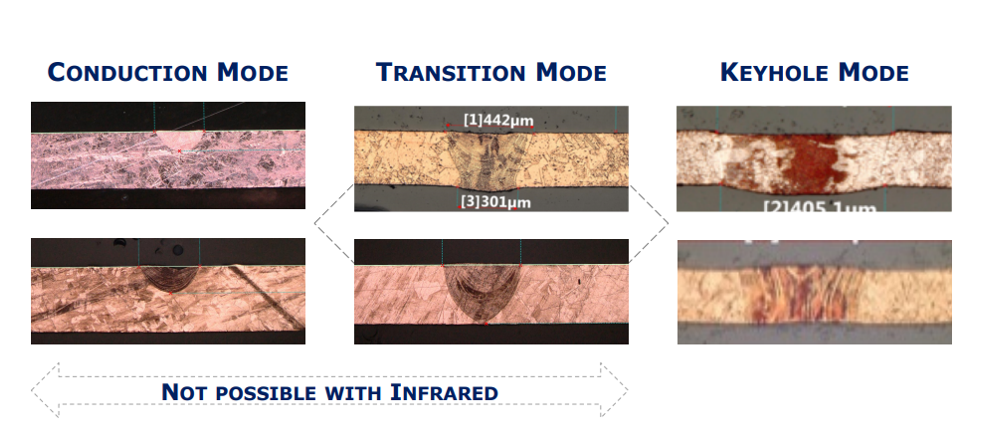 Blue wavelengths are perfect for any process needing high absorptivity. So they are ideal for welding. But with a good beam quality, additive manufacturing is also a target market.
NUBURU have recently launched the AI range, a high power, high brightness blue laser, geared up for additive manufacturing. The AI laser currently manufactured is 1.5kW, 11mm-mrad BPP. The minimum focus at f=100mm is 100um, and can be scanned! This opens up new material processing applications and markets, and exciting time for Blue Lasers!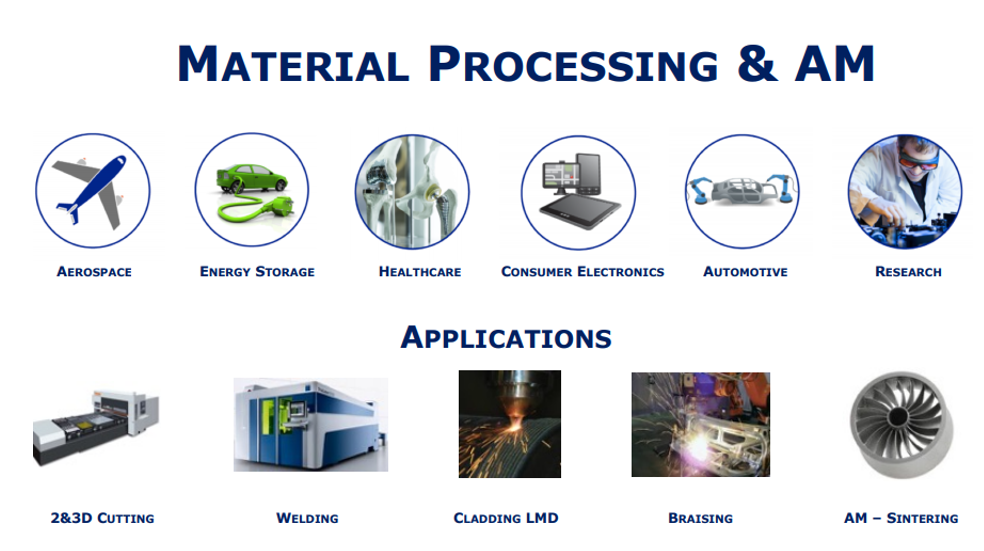 Laser 2000 can provide you with a material processing workstation, customisable to your requirements.
An example of what we can provide comprises of an X, Y, Z gantry system, which will be CNC controlled. All three axes are ball screw drive units controlled via the servo motors supplied as part of the CNC package.
A suitable laser guarding system will be provided around the workstation. This will be supplied complete with a manually operated door for operator access when loading and unloading the component parts. A further door will be provided for access when required for maintenance and setting up.
All chilling requirements will also be supplied as part of the workstation, making this a hassle and worry free.
Not only can we provide small workstations, but we can work with you to design large systems when wanting the laser for production.
Other Blogs/Articles that may be of interest:
If you would like to speak to our Blue Laser Specialist, please fill in the form below and they will shortly get in touch:
---